Prada Cup
As explained earlier on Sail-World, the change of course area comes following a review by teams and event management who feel that on Course A there is the potential for rough water (not from the direction of the breeze) which is safety issue for the foiling monohulls – if a rudder breaks clear of the surface and ventilates.
Rudder ventilation, where air either gets sucked onto the rudder, or the rudder elevator breaks free of the surface, will result in either a sky-jump or nosedive (or both as American Magic's Patriot managed to perform on her maiden sail).
New procedures in place will result in a race being "Black Flagged" as soon as a capsized boat's mast hits the water in a capsize/nosedive, and the race is awarded to the other boat immediately without the requirement for the boat to finish the race to get the point.
For those who watch the NZ domestic TV coverage (TVNZ), Emirates Team New Zealand will be announcing a new major supporter Gabe Newell.
Now a NZ permanent resident Newell (58), a university drop-out (like Bill Gates, Steve Jobs and Larry Ellison), was a Microsoft employee for 13 years producing four releases of their Windows platform. He left Microsoft in 1996 to found Valve a gaming software developer. He is estimated to have a personal net worth of $4billion (NZD 5.6). His company is based in Seattle, and will not be relocated to NZ.
The announcement on TVNZ is expected to announce a new business venture.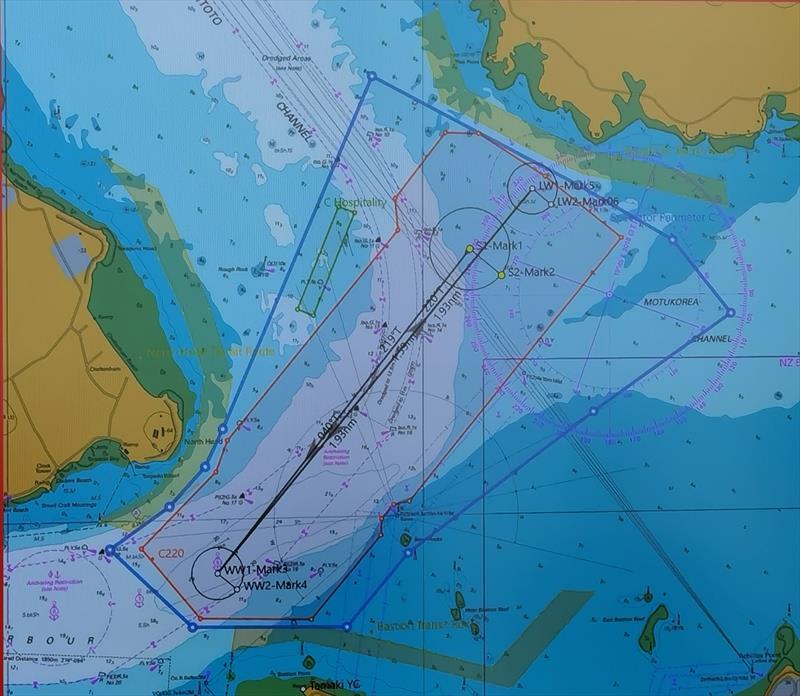 Indicative course area Day 4 – Prada Cup – Round Robin 3 & 4 – January 23, 2021 – 36th America's Cup – photo © Prad Cup Media
The first race – Round Robin 3, Race 1 Luna Rossa (ITA) vs INEOS Team UK (GBR) starting at 4.00pm NZDT
Ghost races (vs American Magic which will not start)
4.40pm INEOS Team UK vs American Magic
4.50pm Luna Rossa Prada Pirelli vs American Magic
The racing will be sailed on Course C
Winds are forecast to be blowing from the SW at 11-13kts gusting 17kts.
How to follow the racing:
From my Spy Guide (covering all vantage points which I have been using to follow the AC75's since September 2019) you can guage the best sites for viewing from shore – binoculars are recommended but not necessary:
Devonport Wharf – easy parking but no real views past North Head: Course C
Torpedo Wharf – good parking, good views and a shed to shelter in – but you can't see up the Rangitoto Channel – Course C
North Head – lower is better – Course C
Takapuna Grammar – Course B and C
Eastern Beach – just look on Google maps – Course E
Musick Point – look on the street views of Google maps there is a road through the Golf Course – with a car park at the top, park there and walk through to your right, there is a clearing there opening right up onto Tamaki Strait and Waiheke. Should take 40 minutes in light fast traffic. – Course E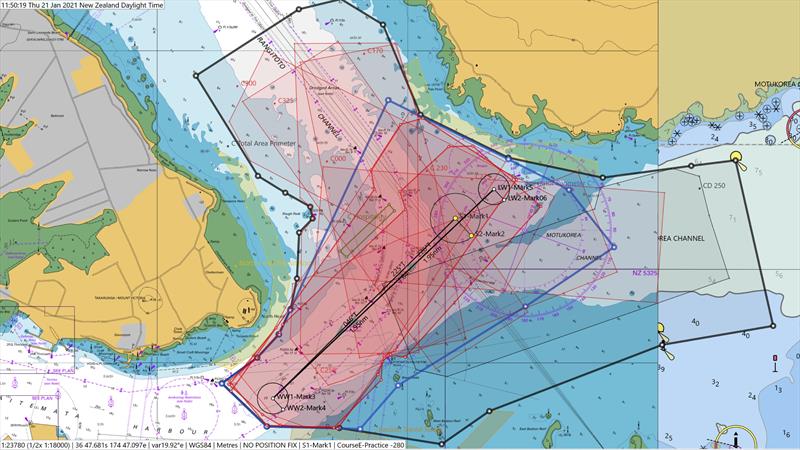 Prada Cup and America's Cup – revised course area – January 22, 2021 – America's Cup 36 – photo © Prada Cup Media
The Auckland City Guide as as follows:
Courses A, B and C will provide great viewing for people on North Shore.
Course A – good viewing to be had from Milford and Takapuna beaches.
Course B – Cheltenham Beach, Narrow Neck Beach, Maungauika North Head
Course C – Maungauika North Head, Bastion Point, Tamaki Yacht Club and Mission Bay
Course D – Southeastern beaches will be the place to watch, with locations including Achilles Point and Glover Park
Course E – Action on this course is within sight of Maraetai and Musick Point.Getting around during the 36th America's CupIt will be busy, so plan ahead get there early and allow plenty of time for travel. The 36th America's Cup Village, located at the start of Hobson Wharf will be open on Race days – 9am-11pm; Non race days -10am-10pm Public holidays – 10am-9pm.

For the best transport links and for all info click here

Listen via radio – highly recommended to get the best on shore viewing experience

Radio for Prada Cup and the Match AC 36 Auckland 2021

There are two options – all with commentary by the world's leading America's Cup broadcast commentator, Peter Montgomery and two co-commentators. They are not on the water but are in a studio with all the essential feeds and are real-time (no delay or latency on AM radio)

Online with iHeartRadio (an internet App Note downloadable from the Playstore (Android) or AppStore (Apple).

This App will work anywhere in the world – but online there is a time lag of around 30 – 40 seconds.

New Zealand only, there is a in real time commentary, with terrestrial Radio.

For the Prada Cup and the Match

Online with iHeartRadio Search for iHeartRadio then enter GOLD AM

Auckland in real time you need a Radio.

Tuned to GOLD AM 1332, previously the frequency for Radio Sport (or on Gold AM old Radio Sport round rest of NZ)

Then for the Match also NEWSTALK ZB FM 89.4 AM 1080

Television coverage in New Zealand is Live on TV1 starting at 2.00pm

On the Internet live coverage is available on Sail-World's home page www.sail-world.com.

For those who have been geo-blocked, an experienced sailing journalist will be updating regularly on Sail-World.com/nz on the progress of the racing along with comments picked up from the TV feed. Sail-World has the only sailing photo/journalist on the water, and the report will be further updated after the conclusion of the racing to provide an accurate record and independent record of the day.

Video coverage is generally is available on Youtube and search for/subscribe to America's Cup

Or from the America's Cup website www.americascup.com

Some countries may be geo-blocked due to TV rights issues. You can usually get around these by a VPN (Virtual Private Network) piece of software which will mask your location. Or download the Opera browser and view through that – which is understood to contain its own VPN.

Here is the download link – we ave used Opera only for a few days, it seems to be very good www.opera.com/features/free-vpn

The explanation for countries which are geo-blocked (mainly USA) is as follows:

On NBC Sports, the schedule is as follows (no extra paid subscription needed):

6 days of PRADA Cup live

10 days are same day delay

1 day is next day delayed

The first two days of the Match will be live

The next two days will be same day delay – delayed by an hour for scheduling reasons

The final three days are TBD

Generally, the delayed broadcasts are because of wider scheduling issues with other sports events.

NBC Sports carries the ACTV 'World Feed' and the schedule gets stronger as the competition progresses- including Friday night 9pm Live on NBC Sports on both of the next two weekends.

With regard to NBC Gold (paid extra)- every race is live (World Feed) as well as multi feeds. *Note we have no control of what they charge for the NBC Gold

With regard to YouTube in the US:

All highlights are available as soon as produced and posted each day.

However the full live racing is delayed by 48 hours.

Basically Live racing and highlights coverage is available on americascup.com in all markets where YouTube operates, except for those covered by the NBC arrangement outlined above. And I am purposely not going into detail on broadcast territories because every other territory the digital streaming rights are separated and available to all LIVE no matter what broadcaster is showing it.

Press Conferences: Live streamed on YouTube without restriction anywhere. These start about an hour after the completion of racing.
by Richard Gladwell Sail-World NZ